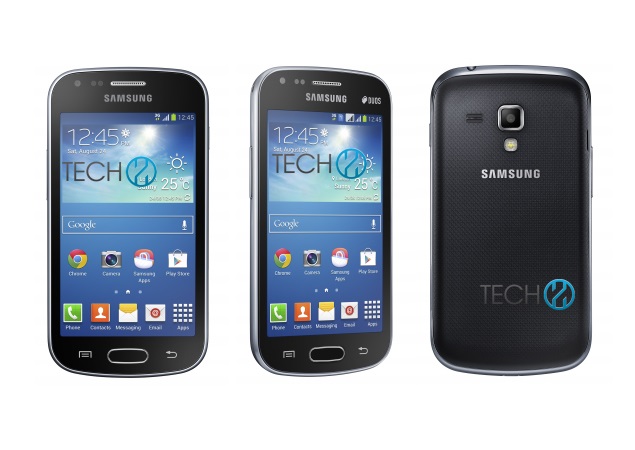 Samsung seems all set to release a new affordable smartphone, the Galaxy S Duos 2, the successor to the Galaxy S Duos in India. The rumoured Galaxy S Duos 2 has been leaked in full via leaked images, prices and specifications.
Hungarian Tech 2 site has published some images of what is being called the Samsung Galaxy S Duos 2, revealing the handset in its full glory. As per the leaked images, the dual-SIM Galaxy S Duos 2 will come with identical design as seen in the original Galaxy S Duos.
Further, the site has leaked some specifications of the Galaxy S Duos 2, which include a 4-inch display with a resolution of 480x800 pixels; a 1.2GHz dual-core processor (with no word on the chipset); 5-megapixel rear camera; expandable storage support (microSD card), and 1500mAh battery. The site claims that the Galaxy S Duos will run Android 4.2 Jelly Bean. The site has also leaked a promotional material of the Galaxy S Duos 2 which shows that the smartphone would feature Multi-Window feature, generally seen on premium smartphones and tablets.
In addition, a Twitter user named Manish Khatri, who is a retailer in Mumbai, has posted the price of Galaxy S Duos 2 on Twitter. Khatri writes, "#Samsung New launch: Galaxy S Duos 2: MRP Rs. 11,230 Best buy price Rs. 10990/-(stocks in few days)." The tweet clearly suggests that the smartphone would be launched in India soon, however does not mention the exact price of the smartphone. The tweet was first spotted by Android OS blog.
Samsung launched the Galaxy S Duos in India in September 2012 at a price of Rs. 17,900.
Earlier this week, Samsung announced the successor to the Galaxy Grand, the Galaxy Grand 2. The South Korean handset maker did not reveal the price for Galaxy Grand 2 and did not announce the availability details for the smartphone.