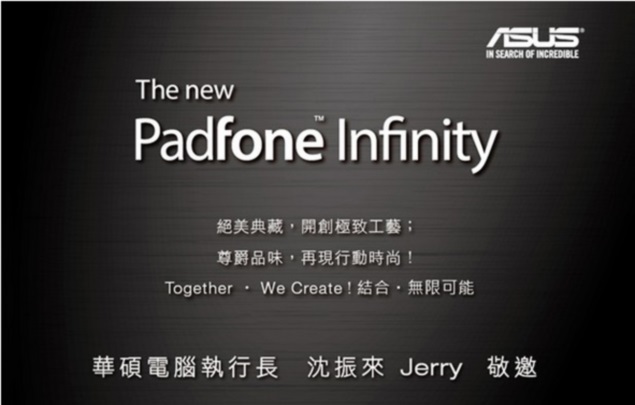 Asus has just sent an invite for a press event to be held on September 17 in Taipei. The company has confirmed that it will be launching the refreshed Padfone Infinity at the event.
The invite sent by the Taiwanese vendor reveals that 'the new Padfone Infinity' will be unveiled and company's CEO Jerry Shen will host the event. The invitation was first reported by Engadget.
The invite provides little in the way of details related to the smartphone-tablet-hybrid which is expected to look quite similar to the current Padfone Infinity. Asus's Padfone Infinity line is a hybrid family that includes an Android-based smartphone which can be docked and turned into a tablet.
The yet to be unveiled Padfone Infinity has already appeared in number of leaks. Earlier reports have claimed that the alleged device is dubbed the PadFone Infinity A86. Recently, purported images of the device surfaced online that revealed the overall design of the hybrid device. The leaked images suggested that the handset's design is identical to the current PadFone Infinity. The leaked image showed an all White Infinity A86 pictured alongside the current Fonepad Infinity.
Previously, Asus's alleged PadFone Infinity A86 smartphone popped up in the GFX Benchmark results that detailed the specifications of the device.
Earlier leaks suggest that the Padfone Infinity is expected to sport a full-HD display with 1080x1920 pixels resolution; however there is no word about the size of the display, yet. The tablet is codenamed PadFone T004 and runs on Android 4.2.2. The device is likely to include expandable storage and a noise-cancelling microphone.